Your child has finally done it! We all remember what it is like to march down the aisle to pomp and circumstance and to throw your Oxford cap up into the air. For your child, it is going to be a magical day. But with any great accomplishment, comes great reward.
A car is the best graduation gift idea for both high school and college graduates. It helps launch them into the world with a support system. For some, the look in their eyes is excuse enough to surprise them. If you are thinking about buying your kid a car, then we have everything you need to know before you do it!

Why Buy a Car Over Other Graduation Gifts?
Sure, you may feel like throwing a couple thousand bucks their way. Maybe your relatives are thinking the same. But what do you think is going to happen to that money? Who the heck knows? Money easily comes and goes, but a car stays until it is smashed up, sold, or broken down. That's why a car is the best graduation gift idea.
If you buy a car for your graduate, you are going to help them save money in many ways:
They won't buy an unreliable car that is ready to break down in 1 to 2 years.

You can choose a vehicle that will help them save on gas.

You can save them from recurring repair costs.
Also, a car will give your new graduate the mobility they need to find a job, attend college classes, or even run a business. It is the perfect gift to ease your child into a life of more responsibility, which is something everyone struggles with. (Remember when you first graduated?)
Here's the best part:
During their busy lives, you will have the perfect excuse to have them come visit. Just say, "Hey Sally, come visit us. We're just 45 minutes away. You can take that Honda S2000 we bought you for graduation. Is it still running well?"  
How Much Should You Spend?
Before you go out and buy a vehicle, you need to take several factors into consideration:
How big is your budget, and what resources will your child have?

Your economic circumstances will be the number one deciding factor for which car you can buy. Does your child need to save gas (or do you need them to save gas so you aren't sending them loads of cash)? And like we said already, finding a reliable vehicle will save them (or you) money on any future repairs or maintenance. 
Are you going to factor in vehicle safety?

If safety is a priority, then an SUV may be a better choice than a sedan (don't even consider an ultra-compact car). Of course, there are many highly-rated sedans on the market that will protect your child during collisions, but you need to be very honest with yourself. Are you going prioritize safety or savings? Depending on your kid's driving experience and where they will be driving the vehicle the most, an SUV may be the smarter choice.
What are your child's preferences? You are buying a graduation gift! That means, along with your needs, you need to consider your young graduate's needs. After spending a fortune to get your child on the road, nothing is more disappointing than a look of melancholy on their face because the vehicle is everything you wanted, without taking their likes into account.
Now that you have had some time to consider your personal situation, we can now look at a great list of vehicles for your child's graduation gift.
The Best Graduation Gift Idea: Which Car to Buy?
Honda Civic
The Honda Civic has remained a best-selling car for the past 25 years. It has an almost unmatched reliability that, combined with its fuel efficiency, makes it the best budget car on the market. Of course, for the young graduate who wants something more sporty, there are several different models and options available, from cosmetic additions like spoilers to performance options like a six-speed transmission. Many Honda Civics have been known to last well over 300,000 miles. So if your kid is thinking about starting a business or wants to get a great head start in life, look no further. And when the time comes that the Honda Civic no longer serves their needs, the Civic has great resale value because of its sturdy attributes.
Look through TRED's inventory of sedans.
Toyota Camry
Like the Civic, Toyota's Camry line is very dependable. If safety is important, you will find the Camry to be a suitable choice. This model of car is regularly ranked quite highly for safety. The Insurance Institute for Highway Safety gave the 2015 model the highest possible grade in all of their rating categories. Here's the best part: buying a Camry won't break the bank! If budget is important to you, then a Toyota Camry may be a perfect choice.
Look through TRED's inventory of sedans.
Mazda3
Another affordable compact sedan makes the list! Although the Mazda3 is considered a small sedan, its interior is accommodating for most people's needs with a total cargo capacity of 47 feet. If you need more storage, then you can choose a hatchback model. Unlike the previous two sedans on the list, the Mazda3 has a fresh-faced, stylish design that appeals to younger crowds. And, for the thrill seekers, the Mazda provides a little kick with 155 horsepower. If that isn't enough, you can always opt for a model with the Skyactiv engine which boasts 184 horsepower. If the owner keeps up with the maintenance, the Mazda3 should last your child many years.
Look through TRED's inventory of sedans.
Honda S2000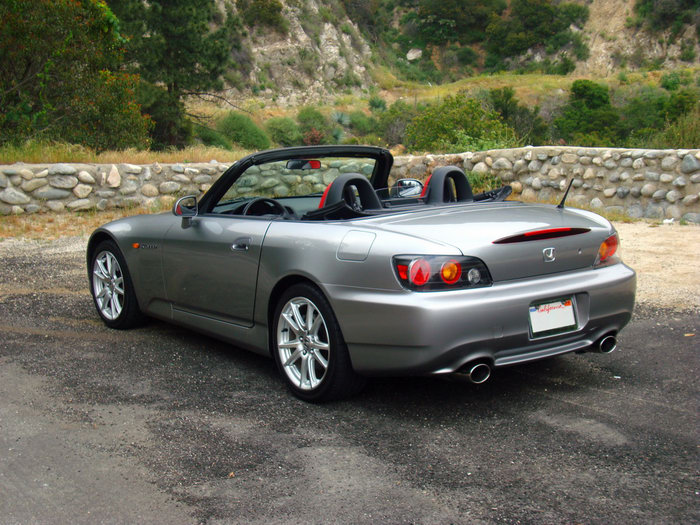 The Honda S2000 is the ultimate budget drive for someone who wants power, style, and a darn good riding experience. In the interior, you will find a minimalist layout that lets you focus on the road. In this regard, the Honda S2000 wasn't built for a nice family drive, but for the car lover who wants to feel the car pulse and radiate. According to Motor Trend in 1999, the car felt like "Formula One engineers built a sports car." This line of cars was discontinued in 2009, leaving a big gap in the market, but you can find some great used models on used cars sites like eBay Motors, Autotrader, or here on TRED. Watch your you graduate's eyes light up when they see this slick powerhouse waiting for them in the driveway.
Look through TRED's inventory of convertibles.
Find Your Next Used-Car On Our Site!GO TO INVENTORY!
Toyota RAV4
The RAV4 is a comfortable ride with plenty of space for cargo (73.3 cubic feet with the rear seats down). Its interiors are usually made using higher quality plastic than most vehicles with soft-touch surfaces. You will also find, in some premium models, that they have been equipped with faux-leather and Softex. The RAV4 gets 24 MPG in the city and 31 MPG on the highway, making it a considerably fuel efficient SUV. If your graduate is looking to go off-road, the RAV4 will not leave them disappointed.
Look through TRED's inventory of SUVs.
4 Creative Ways to Surprise Your Young Graduate
The furry dice switcharoo. Anyone can imagine opening a present to find a pair of furry dice. After that moment, all you have to do is hand over the keys and say, "Looks like you will need a car to hang those!" This can be done with many items. You can wrap a license plate, a screwdriver for them to hang their license plate, or anything car-related.
Use a restaurant valet service. Eating a delicious dinner is standard procedure for graduation celebrations. In this case, take your graduate to a nice dinner at a restaurant with a valet service. After your family has finished eating, have the valet drive up with your graduate's new car and say, "I believe this car is yours, Mr. Johnson." Your child's mouth will drop to the ground.
Make them work for it with the big box trick. You just bought your young one a car! Think how much time it took you to earn that money. And that kid is just going to get the keys handed over to them without a challenge!? No, make them work for it! Wrap the keys in several boxes so you can sit there with deep satisfaction as they attempt to rip it apart, box by box.
Conclusion
We hope this article has armed you with the information you need to buy your graduate the perfect graduation present. Any car lover will tell you, a car is the best graduation gift idea of all…way better than cash! But as we said, you don't want to buy your child a clunker that's going to break down. And we know buying a car can be a hassle, but we here at TRED want to help make it easier. Here's how: 
We secure your transaction with financial and identity fraud protocols.

We review the vehicle's condition (with an extensive 150-point inspection).

It is FREE until you sell your car.
Ready to buy your child the best graduation gift ever? If so, look through our listings of cars here.